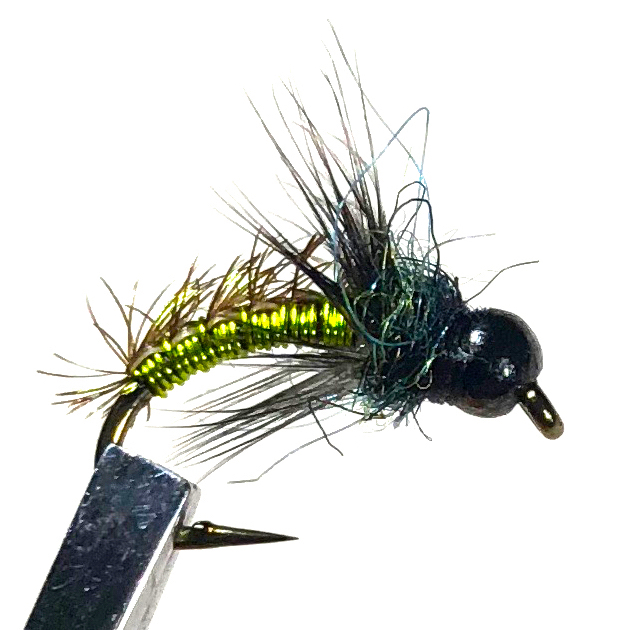 Caddis have always seemed to be one of the most overlooked and under-imitated aquatic insects in the fly fishing world.  Maybe it's because they haven't been written about nearly as much as their sexier mayfly cousins over the years.  I mean, mayflies are given names like Pale Morning Dun, Quill Gordon, and Gray Fox… just to name a few.  Caddis are given names like Green Caddis, Brown Caddis, Black Caddis…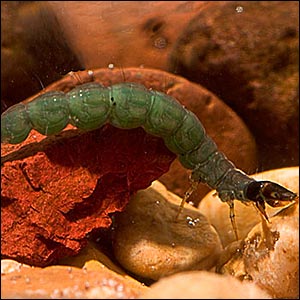 Regardless of the lack of respect given to caddis over the years, they have always been and continue to be abundant in nearly every body of freshwater and a staple in the diet of trout everywhere.  I have numerous caddis patterns that I fish seasonally in the Smokies, but one that finds its way into the line-up more than any other is the Soft Hackle Wired Caddis.
There have been a number of wire body caddis patterns over the years and this is simply my variation on similar recipes.  I sometimes tie it without a bead, but most often with a black tungsten bead at the head. It fishes well on a dead drift under a strike indicator but, especially when caddis are emerging, can be very effective fished with a drift and swing method.  Learn more about this method and other similar techniques in this article on Active Nymphing.
Soft Hackle Wired Caddis
Hook: #18 – 12 TMC 2457 (or equivalent)
Bead: Black tungsten to match hook size
Body: Small chartreuse wire*
Back: Peacock herl woven between wire wraps
Thorax: Black or brown Wapsi Life Cycle dubbing*
Hackle: Black or brown hen*
*Other colors can be substituted to match specific caddis species