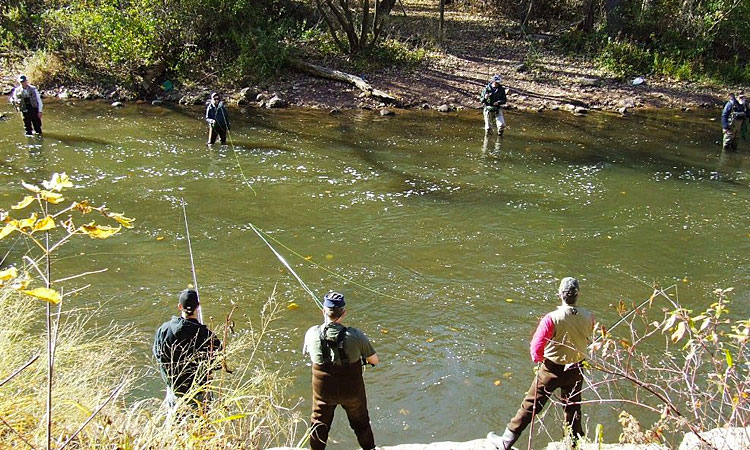 When I first started fly fishing, it was a different time. It was before everyone had access to the Internet. There were no message boards. There was no Twitter. There was no Facebook. Many fisheries didn't receive nearly as much pressure simply because not nearly as many people knew about them. And to the fishermen who did know about them, they were closely guarded secrets shared only with a handful of trusted friends.
I realized that early on and I respected it. I learned quickly that I not only needed to learn and develop a set of skills to be able to catch fish, but I also needed to conduct myself in a certain way to earn the trust and respect of fishermen who had been doing this a lot longer than me. Part of this simply meant knowing how to keep your mouth shut when someone did share a particular fishing spot, but it also meant not behaving like an inconsiderate moron when you were on the stream.
The current trend of photographing and videoing every single fishing trip and sharing it, complete with GPS coordinates, on multiple social media outlets is probably the subject of an entirely different article. But regardless of how you feel about the trend, it has most certainly resulted in a lot more fishermen on more remote streams. And with easier access to this information, many of these "newer" fishermen have never been exposed to the idea of stream etiquette. While some folks are always going to be inconsiderate no matter what, I believe most violations of etiquette occur simply because someone doesn't know better. Since it is just as important now as ever, if not more so, I thought this would be a good place to share a few basics.
Stream etiquette really just boils down to common courtesy and common sense. The first thing to keep in mind is that you are not entitled to any piece of water. If you have a favorite pool or stretch of water and someone is fishing it when you arrive, get over it, move on, and fish it next time – maybe get there earlier. Even if that someone is not in the pool but they are approaching it, don't try to rush up and cut them off. Particularly in smaller mountain streams, fishermen don't typically stay in one spot for long periods of time. Rather, they move up the stream covering stretches. The assumption should always be that the fisherman is working upstream and plenty of space should be allowed for that.
The appropriate amount of space to give another fisherman is always up for debate. On a crowded tailwater with limited walk-in access, that space might be 100 yards. On a somewhat crowded roadside river in the mountains, that space may be a quarter of a mile. On a backcountry stream where there are very few fishermen, that space may be a half mile to a mile. You kind of have to get a feel for the traffic flow and act accordingly. I always think of it like a movie theater. If it's opening night for 'Star Wars' and the theater is packed, you'll likely be sitting right next to someone else. If there are only two other people in a movie theater and you sit right next one of them, you're being an ass.
When in doubt, communication is always the best way to ensure everyone has a positive experience. "How far up are you planning to fish?" Most fishermen appreciate this and will typically extend the same courtesy. Typically. On one occasion when guiding a couple of fishermen on Little River, we found ourselves walking up the trail alongside two other fishermen. Since we were already a couple of miles up the trail and obviously heading in the same direction, I made conversation with them and asked how far up they were planning to go. In a gruff tone, one of them replied, "Farther than you!"
If I had been by myself I might have hiked all the way to the stream's headwaters purely out of spite! Instead, I politely explained that I just didn't want to get in each other's way. By being so obtuse, he was sabotaging an easy way of accomplishing what we both wanted to accomplish. Most fly fishermen, particularly in the backcountry, are nice folks and they're in the backcountry for the same reason you are: to get off by themselves. Usually, there is plenty of water for everyone and being willing to communicate will help ensure that everyone gets what they want. Be nice!
And if you make a mistake, apologize and move on. There have been plenty of times when I inadvertently cut someone off in a stream because I didn't see them. It happens to all of us. If you're close enough, apologize and move on to another area. If you're far away, wave and move on to another area. If someone inadvertently cuts you off and acknowledges it with a wave or an apology, cut them some slack. Mistakes happen. Be nice!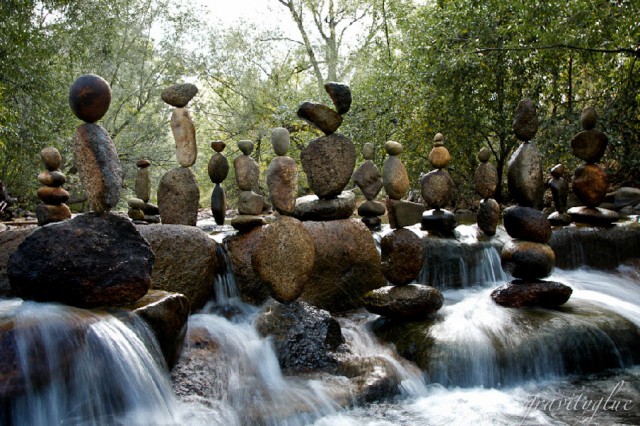 Finally, stream etiquette includes blending in with your environment. Don't take away from someone else's current experience by making a lot of commotion like shouting up and down the river. And don't take away from someone's future experience by altering the landscape. This most definitely means don't leave any garbage behind, but it also means don't litter the landscape with "sculptures" made of sticks and stacked stones.
Again, as mentioned earlier, this all pretty much boils down to common sense and common courtesy. Unfortunately, both seem to be in short supply these days.