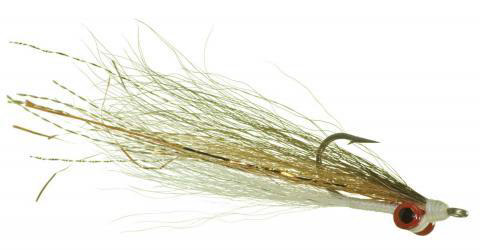 In freshwater or salt, one of the best baitfish patterns around…. I recently went to Perdido Key, FL on vacation. Once a year, my wife and I take a beach vacation somewhere, usually with another couple. And while these trips are more about relaxation and socializing, I always try to work in at least a little fishing, sometimes with a guide. I didn't know much about this area and never really even took time to research, so I just packed some gear and planned to figure it out when I got there.
On our first day, while kicked back on the beach enjoying an adult beverage, I observed a tremendous amount of feeding activity in the surf. Schools of bigger fish were ripping through schools of smaller fish, and it was happening up and down the coast as far as I could see. Looks like I wouldn't have to do any scouting after all. All the activity I needed was right outside my back door!
My big problem was that I didn't know what kind of fish were getting eaten and what kind of fish were doing the eating. Don't you just love beach problems? My saltwater experience is just as limited as my saltwater gear, so I approached it in the exact same way I would approach an unfamiliar freshwater situation. When in doubt, go generic. It was apparent that they were feeding on some kind of baitfish. And what is the most generic, universal fly for imitating a baitfish? A Clouser Minnow.
The fly was originated by Bob Clouser in 1987. Bob was a fly shop owner and guide in Pennsylvania and developed the fly for smallmouth bass on the Susquehanna River. I first learned of the fly in the early 90's and fished it regularly on the smallmouth streams of Central Kentucky. Over the decades, it has been varied in color and style, and has accounted for nearly every species of fish known. Whether freshwater or salt, the diet of nearly every big fish includes small fish. And whether freshwater or salt, most baitfish have some very common characteristics. Most have a long, slender profile, a darker back and a lighter belly, and pronounced eyes that often act as a trigger for predators.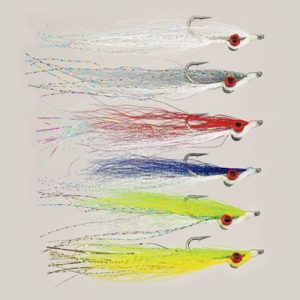 While there are various color combinations to better match specific baitfish, all Clouser Minnows have the above-mentioned characteristics. They also have lead eyes positioned in such a way as to allow the fly to ride hook up. And with their bucktail bodies, they retain very little water, making them feel lighter and easier to cast than most other flies their size.
While I most often use this fly for warmwater species, I've taken a number of tailwater trout and even the occasional large brown in the park on it. You can bet I'll fish it more than once in late fall in the park when those big browns begin moving before and after spawn. I tie them on traditional streamer hooks for trout, on larger gape hooks for bass, and on stainless hooks for saltwater species. I've had success with a number of different color combinations but my "go to" colors are white and black and white and olive.
So the first morning I was at the beach, I got to the water at sunrise with a black and white Clouser tied to my leader. On the second cast into the first school of feeding fish, I was hooked up. The ol' Clouser does it again and I can now add a couple of speckled sea trout and a whole lot of ladyfish to its list of victims!