Understanding How Trout Feed and the Importance of Presentation….
 It has been claimed by many, beginner and expert alike, that Smoky Mountain trout are among the most difficult to catch. Talk to a few Smoky Mountain anglers for any length of time and at some point the statement, "If you can catch them here, you can catch them anywhere!" will certainly be heard. That's not entirely true. Simply driving a little north to the Clinch will teach you that. Employing Smoky Mountain fishing tactics on that big tailwater may reap rewards in a few areas, but the long, slick waters of the Clinch will require different skills to be consistently successful. Almost every fishery has certain characteristics and little quirks that make it uniquely challenging.
But this much is true… If you are catching fish in the Smokies on a consistent basis and understand why and how you're catching them, applying those skills to other freestone rivers, such as those in the American West, will put you a step ahead of many anglers. But why? What is it about these little mountain streams that is so challenging?
The first thing is simply the fact that you typically have a significant volume of water in a small space. Rather than water flowing through a broad basin, where current speeds are somewhat consistent and concentrated in long, broad channels; in these small streams, the flow breaks and changes speed dramatically with every boulder it hits. So in many situations, in one fishy run, there may be fifteen different current speeds with which to contend. That may not be a big deal if you understand how that phenomenon can impede drift and you can approach those runs properly, but failure to understand this can convince many an angler that there are no fish in these streams!
I've seen a number of VERY good fly fishermen come to the Smokies and get skunked. In most cases it is because they are big river fishermen and they approach these streams in the same way they approach the big rivers they normally fish. That usually entails standing erect at the bottom of a run and making a 40-60 foot, up and across cast to the top of the run. The result is 40-60 feet of line being grabbed by fifteen different current speeds, and an attached fly dragging like RuPaul! All but the smallest and dumbest fish in the Smokies will not tolerate a poor drift, and with the exception of the rare slow pools, there is no way you're going to be able to cast that much line and be able to control your drift. Executing a good drift in the Smokies is going to require getting closer to the fish.
First, it is important to understand where the fish will be and why. You can find fish in the slow pools but these are among the most difficult to target. Without a defined channel to concentrate food, fish in these pools will be very spread out and often cruising, feeding opportunistically. Unless there is a significant hatch coming off to motivate consistent feeding and reveal fish when they break the surface for a meal, catching them in these environments is going to require a lot of patience, a lot of trial and error, and a lot of plain dumb luck. This is certainly not to say you can't catch fish in slow pools in "hatchless" situations, but the odds are not with you.
For heavier concentrations of actively feeding fish, you'll want to be in the riffles and runs where there are clearly defined channels. The stream funnels insects and other food items into these channels, and where you find food, you find fish. And in these food abundant areas, fish are typically "holding," waiting for the meal to come to them. But because there is so much "stuff" coming through these chutes, from aquatic insects to stream debris, the fish instinctively ignore passing items that don't look like food. Your imitation dragging through the feeding zone faster than the current because another current is pulling on your fly line, qualifies as something fish will ignore. To control the fly you have to control the line. To control the line in a run with multiple currents, you have to get closer.
To get closer, you'll want to employ the strategies discussed in Part 1 of this article: dress accordingly, stay low, and be stealthy. The idea is to get into a position where you can use the length of your rod to keep the fly line out of any currents other than the one where your fly is. So you're keeping the rod high, keeping most, if not all, of the line off the water so that there is very little to impede the drift. By following the fly with your rod tip, you can extend your drift through the run. There are going to be a number of these little feeding zones within a run, so you try to hit one, reposition yourself, hit the next, reposition yourself, and so on.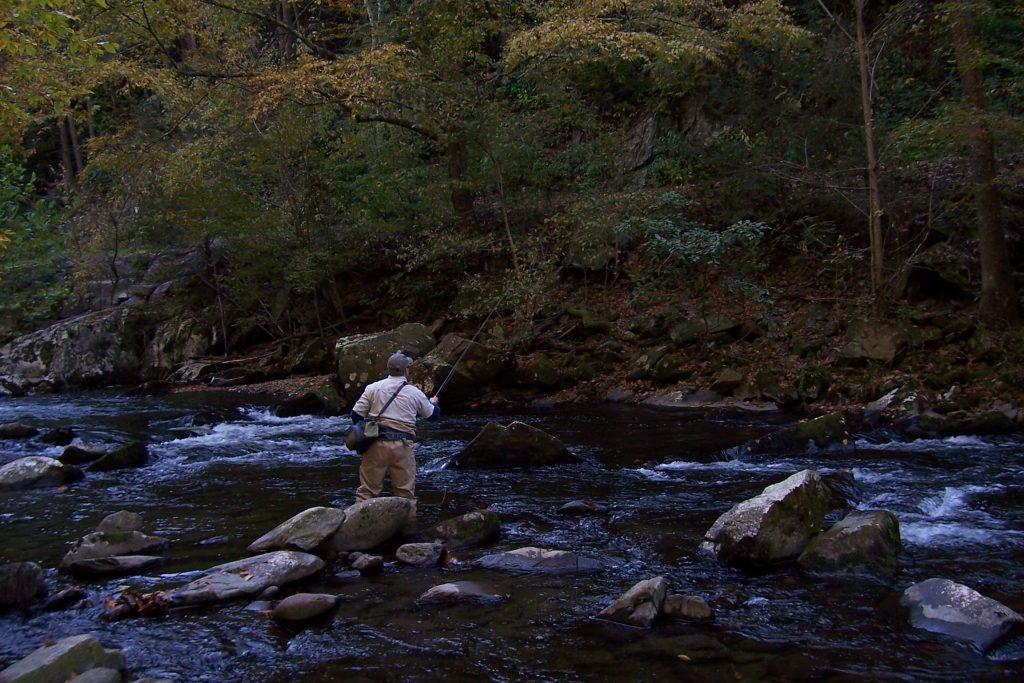 Check out the photo above – a typical stretch of water in the Smokies. You can easily see the numerous changes in current speed and direction in just this small area. Rather than standing at the bottom right of the photo and casting 40-50 feet to the top left of the photo, our angler is intelligently breaking this stretch into defined sections. He has likely already fished the water below, to his left, and right in front of him. Notice he has his rod high, keeping the line off the current directly in front of him, and allowing the fly to drift nicely in the current breaking around the right of the boulder. Next, he will likely step up to the boulder and fish that large pocket above it. Well done!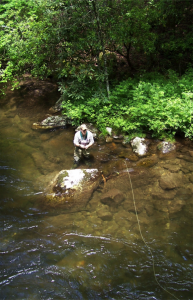 The angler in this photo is also doing a good job with a little more line out. Notice he is concealing himself behind a boulder and his rod is help upward, keeping the current lip in front of him from grabbing the line. The line that is on the water is all in the same current speed. Again, well done!
He likely fished the current below that boulder before stepping into that position. It's all about planning your attack. Determine your targets and carefully place yourself in the proper position before casting to them.
Setting the Hook
Fishermen in the Smokies also miss A LOT of strikes. Some of the misses can be attributed to the fact that trout in the Smokies hit and spit a fly with amazing speed. You can just go on and plan on missing some strikes when you fish here – just like you can plan on getting hung in a few trees – it's all part of it!
But you can greatly increase your number of hook-ups by implementing the above strategies. While many strikes are missed due to the angler just not being ready or reacting to slowly, just as many are the result of too much line on the water. The more line you have out, the more line you have to move and tighten to set the hook. And when that line has a lot of slack in it, there will be even more delay.
It's a delicate balance. In most cases, you have to have a little bit of slack in your line to allow your nymph or dry fly to drift without drag. Keeping that slack to an absolute minimum will allow the rod tip to lift and tighten the line on the fish much more quickly and will certainly result in more fish to hand.