Understanding a Trout's Vision and Instincts for a Better Approach…. On numerous occasions guiding clients in the Smoky Mountains, I have been met with a suspicious and doubting eye when I provide certain instruction regarding approaching and presenting the fly to wild mountain trout. The reply is often something like, "Are they really that smart?" No, trout aren't that smart. They have the brain the size of a pea. But the fact that they aren't that smart is what allows them to be so good at what they do. Unlike us more "intelligent" humans, trout aren't distracted by health care reform, college football, paying the mortgage, or who got voted off American Idol last night. Their entire existence is ruled by instinct, and their only real concerns are receiving enough oxygen, eating, and not being eaten! When your life is that simple, it allows you to remain pretty focused.
Think about a simple housefly for a moment. Trying to catch one is difficult. A housefly isn't smart. It's not planning out evasive maneuvers in the event of a human attempting to catch it. First I'll cut right, then I'll go up, then I'll get behind the blinds at the window…. It's pure instinct. Survival. Something we humans have to go through rigorous, repetitive training to achieve.
One of the biggest mistakes anglers make when approaching fish is doing so from upstream. To a trout, a stream is a conveyor belt of food, constantly delivering hatched aquatic insects and terrestrials on the surface and juvenile aquatic insects (nymphs) between the surface and the bottom. Trout aren't looking down the conveyor belt to see what they've missed, they're looking up the conveyor belt to see what meal is coming next. If the trout see something suspicious at the top of the conveyor belt, like you, they're going to likely quit feeding until they feel safe again. They may even go hide!
So the trout knows I'm trying to catch him? No! But he's spooked. Think about a situation you've been in where your senses were heightened. Maybe you're walking alone late at night on a dark street and you hear a strange noise up ahead. Is it the wind? A stray cat? Another person? A serial killer? You don't know, so what do you do? Do you race up ahead to check it out? Do you ignore it and keep on as if nothing happened? You would probably stop doing what you're doing and assess the situation. You might even turn around and go the other way. It's the same thing if something disrupts a trout's comfort zone while they're feeding.
Another interesting way to look at it is if you take the dark street scenario described above and insert a thirteen year old rather than an adult. Due to limited life experiences and a feeling of invincibility, the thirteen year old may proceed with less caution, if any at all. Now you know why big (old) fish are harder to catch than small ones!
You'll be far more successful if you approach the fish from downstream and cast upstream. This puts you behind the feeding fish where you are less likely to be detected. Notice I said less likely. You can still alert fish to your presence by making a lot of commotion through careless wading. When possible, stay out of the water or right on the edge. When you do enter and move through the water, do so quietly and deliberately. Stomping along the stream bottom and/or splashing through the water will produce excessive vibrations, again alerting the fish to possible danger.
You also want to keep a low profile to remain unseen by the fish. So trout have eyes in the back of their heads? No, but they can still see things behind them – to an extent. Trout are predators and prey, and they are blessed with vision that benefits them in both roles. Like humans, they have binocular vision that allows them to see straight ahead underwater. Because of the placement of their eyes, they also have an extended range of peripheral vision, allowing them to see things on either side of them. Since this vision is used to look straight ahead and to each side, there is little distortion and it's very clear – much like we would see under water.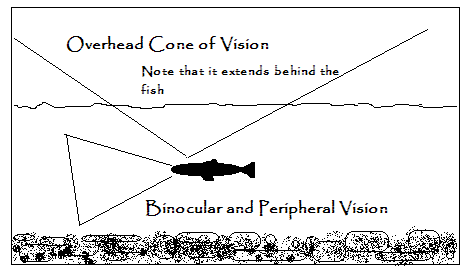 But trout also have a cone-shaped field of vision above them that allows them to detect predators from above. Because of the distortion caused by light refracting as it hits the surface of the water, trout are unable to clearly make out objects, so this is used to visually detect movement more than anything else, such as a Kingfisher swooping down to get them. It's the same as if you were to lie down on the bottom of a swimming pool and look up. You would be able to see objects but they would be so distorted it would be difficult to differentiate between a person and a tree – until that person started to move. However, something that is right on the surface, like a mayfly dun, will be clearer to the trout than something above the surface, like a bird – at least the silhouette will be much more distinct – making this ability effective for feeding on adult insects and terrestrials.
As you'll notice in the poorly illustrated drawing above, that field of vision does extend a little behind the trout – upward and outward. Everything that makes its way into that cone can be detected by the fish. So, when approaching a trout from behind, how close you are determines whether or not you're in that cone of vision. Notice however, that a short object can be directly behind the trout and unseen while a tall object would be in the field of vision. This is why many successful Smoky Mountain anglers can be seen crouching or squatting when closely approaching fish. The lower profile keeps them out of the fish's "window."
The other thing that should be considered is the type of water you're fishing. The faster and more broken the water is, the more difficult it will be for the trout to detect you, making it easier for you to get closer to the prey. On the other hand, trout in the slower, flatter runs and pools are going to be able to detect you much more easily and may require you to stay back a little more and put a little more distance on that cast.
In any situation, the more you can conceal yourself, the more successful you will be. Stay low. Wade slowly and quietly. Hide behind rocks and boulders when you can. And for God's sake, leave the bright orange, hot pink, neon yellow clothing at home. You don't have to be dressed in full camo with twigs and branches in your hat to catch fish here, but simply dressing in earth tones – browns, olives, khakis, and greys – will go a long way toward not scaring every fish before you even make a cast!
Check back soon to see Part 2 of this series about how trout feed and how to effectively present your fly.