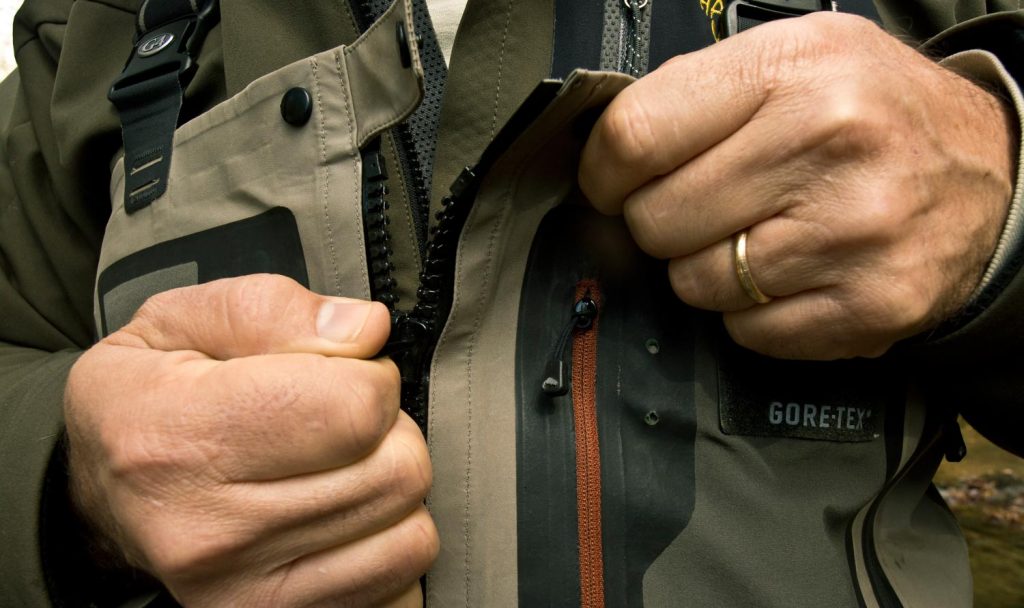 October is the time of year I start wearing waders again in the mountains. For much of the year, usually from May through October, water temperatures are comfortable enough to wet wade, wearing only the wading boots and neoprene socks. But in winter, early spring, and late fall (or any time of year on tailwaters), you better have a decent set of waders if you want to stay comfortable on the stream.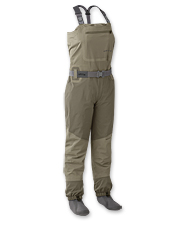 In the 30 years or so that I have been fly fishing, I can't think of any fly fishing product that has improved as much as waders. Early on, your only choices for wader materials were canvas, rubber/plastic, and neoprene. All three of these materials were pretty heavy and pretty warm. And any time you were doing anything active, like hiking or just climbing around on rocks, these things would sweat you to death. Even with less active fishing, like standing in a tailwater, these materials would roast you on a warm day.
Waders made of breathable fabrics like Gore-Tex started showing up in the mid 90's and are now the standard. Early breathable models were not terribly durable and were prone to leaking but today's models are not only comfortable, but when properly cared for, can withstand years of heavy use. If you're in the market for a pair of breathable waders, here are a few things to keep in mind.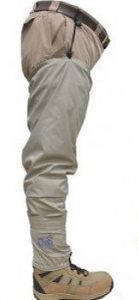 First, there are a few different styles of breathable waders. Chest high waders provide coverage all the way up to your chest. Pant waders provide coverage to your waist. And hippers provide coverage to the upper part of your thigh. When wading small mountain streams, you rarely stand in water much above the knee so hippers will handle most situations. But it seems that when wearing hippers, there is always that one deeper pool of water that you have to cross to get to the other side of the stream. It's the same thing with tailwaters. Since you rarely wade much over the thigh in tailwaters, pant waders would be adequate most of the time but there always seems to be that one deeper spot…
I don't like my gear to determine where I can and can't go when fishing. For that reason, I stick with chest waders to handle all situations. Of course, if the water is too deep for my chest waders, I shouldn't be trying to wade it anyway! And on warmer days, I can always roll the bib down on my chest high waders, essentially converting them into waist highs.
One thing to consider with breathable waders (or any loose fitting wader) is the possibility of falling in deep water. Particularly with chest high waders, this is a safety concern because the waders could fill with water and essentially drag you down. Wearing a belt around the outside of the wader will create an air pocket to prevent this from happening. Pretty much any chest wader sold today will come with a belt. Wear it!
Another big difference in waders is whether they have a boot foot or stocking foot. Boot foot waders have a boot attached to the wader. They're convenient because you can just slip the waders on and you're ready to go. However, this is typically just a loose fitting rubber boot. They are heavy and clumsy, and they provide very little in the way of ankle support. If you're standing still most of the day, these will probably be adequate. But in places like the Smokies where you're moving a lot from spot to spot, usually over very uneven terrain, you will hate these. You'll be compromising comfort and safety.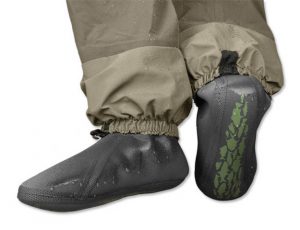 I prefer stocking foot waders. These have a neoprene foot to provide a little insulation on your feet. You wear a separate pair of wading boots over this neoprene boot. Going this route allows you to wear a lighter, form fitting boot that you lace up just like a hiking boot, providing far more comfort and ankle support when walking on uneven terrain. Additionally, you can wear the boot without the wader in warmer months when you may choose to wet wade. I'll talk more specifically about wading boots in a future article.
If you're fishing in colder weather, it is important to remember that breathable waders are designed to keep you dry but, other than the neoprene foot, provide very little in the way of insulation. You will want to layer accordingly under the wader based on your weather conditions. Just keep in mind that breathable waders are only as breathable as the fabric beneath them, so synthetic fabrics like fleece or nylon are recommended over something like denim. Find tips on dressing for cold weather in the "Winter Fishing" article on my web site.
Finally, there is the pesky little issue of price. Breathable waders are certainly not cheap. You can get a really good pair of waders for under $200 and you can spend upwards of $600. All of them will keep you dry. More expensive waders will sometimes be more durable with extra reinforcement in high wear areas like the seat and knees. Mostly though, you're paying for extra features like pockets or zippered fronts that may be handy but not necessarily critical.
The life of any wader can be extended or shortened by how you care for them. Other than avoiding obvious things like walking through briar patches, try not to walk around in your stocking foot waders without the boots on. Either be prepared to step right into the boot when you put your waders on or carry a mat to stand on when getting dressed. Hang them up to dry after each trip and don't store them folded. Clean them periodically according to the care label and from time to time, consider applying a coating of DWR.