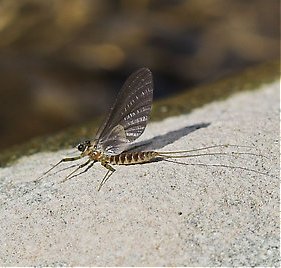 March is the month when trout fishing in the Smokies officially kicks off. Days are getting a little longer, temperatures are getting a little warmer and water temperatures are on the rise. It's also the month when we begin to see our first good hatches of the year.
Aquatic insects from Early Black Stones to Blue Wing Olives to a variety of midges will hatch all winter, but trout rarely pay much attention to them as water temperatures are typically too cold for active feeding (read Understanding Water Temeratures for more info). But in March, that begins to change. And if you pay attention to water temperature, you just might catch one of the best hatches of the year.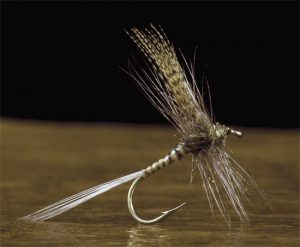 Quill Gordons are fairly large mayflies, between a #14-10 hook size, that begin to hatch when the water temperature reaches 50-degrees for a significant part of the day, for a few days in a row. In unusually warm years, they've hatched as early as mid February. In particularly cool years, they may not hatch until April. But most years on the lower elevation streams in the Smokies, this occurs about the third week of March.
In any case, it's a tricky hatch to catch and really just a tricky month to fish if you don't live here where you can pick your days. Weather can change in the blink of an eye in March and one major cold front or one big, river blowing rain can make all the difference in your success. I've had some of my absolute best days in March and I've had some of my worst.
So, why even fool with it? Why not just wait until April when things are more stable? Because some of those "best days" were really, really good! The Quill Gordon hatch is not just worthwhile because of the number of bugs or the size of the bugs. It tends to happen at the exact same time wild mountain trout begin actively feeding. Many of these trout, including the large browns, have had very little to eat in the last 2-3 months and they tend to be a little less cautious. And when a size #12 Quill Gordon comes drifting down the lane, well, it's pretty hard to resist!
Brown trout exceeding 20" don't get caught very often in the Smokies, period. Even fewer are caught on dry flies. I've been fortunate to catch a fair number of large browns on dry flies in the Smokies, and probably 99% of them have come during the Quill Gordon hatch. Though it's certainly a gamble, THAT is why it's worth coming in March!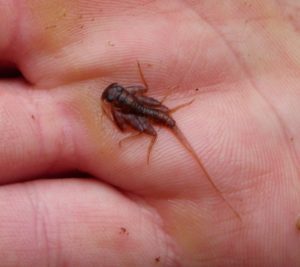 The good thing about the hatch is once it starts, it usually doesn't stop. So, if the hatch gets started on say, 3/21, they'll keep hatching every day even if you get a significant cold front on 3/25. While such a cold front may not impact the hatch, it still might impact the way the trout feed, and they may be more reluctant to come to the surface. What many people forget, is that for all the bug activity on the surface during a hatch, there is just as much, if not more, activity under the surface with nymphs preparing to hatch. Drifting a greyish olive nymph below the surface can also be very productive during this hatch, especially in colder water
Most years the hatch lasts 2-3 weeks and it is usually at its best during the warmest part of the day. In March, that's typically about 11am to 4pm so rearranging your lunch plans is not a bad idea.
The best place to be during the hatch is in a larger pool near the head and middle of the run. Unlike most other instances fishing the Smokies, this is a time when you may need a little more distance on your cast and your mending skills will be put to the test. The fish may be more aggressive but they still won't tolerate a bad drift!
Learn more about Smoky Mountain hatches and flies in my hatch guide.