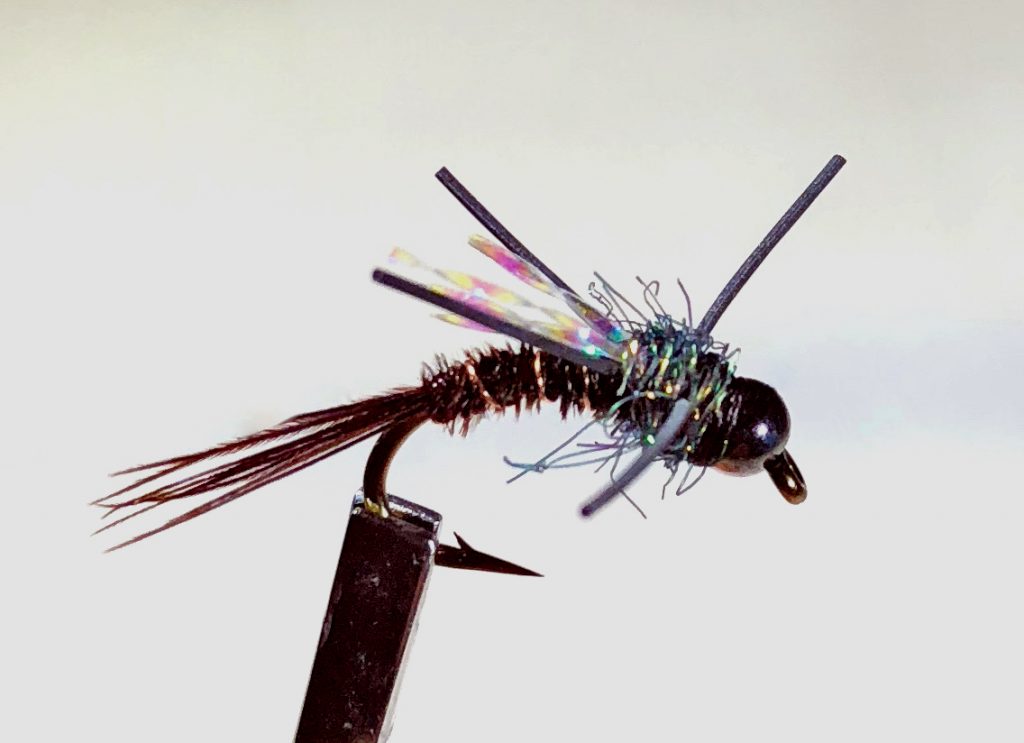 Fly Tying is a lot like cooking in many ways.  Of course, in both pursuits, you're combining a variety of ingredients to create one final product.  And the quality of those ingredients along with the skills of the person putting them together can tremendously impact the end result.  But the issue of originality is also quite comparable.
What constitutes an original recipe rather than simply a variation on an old standard is a very fine line.  If you cook ground beef and put it on a bun with some cheese, it's a cheeseburger.  If you add sautéed onions, it's a cheeseburger with sautéed onions.  But if you use a different type of bread, it becomes a Patty Melt.  Fly patterns have the same blurred lines of originality.
The pattern featured here is of my own design but I didn't give it a very original name because, in my opinion, it's really just a variation of a classic nymph pattern that the world already knows as a Pheasant Tail Nymph. My version here has a substitution for one material and the addition of two more materials.  Is that enough to be considered totally original and warrant a brand new name?  Maybe, but I didn't think so.
In any case, it is a nymph I have been tying and fishing for about five years and it has become one of my favorite flies and most consistent nymph patterns.  Like the original Pheasant Tail Nymph, it doesn't specifically imitate one nymph.  Rather, it's dark and buggy and is suggestive of many mayfly nymphs and caddis larvae.  The addition of rubber legs gives it a little more movement in the water, and the Ice Dub thorax and Krystal Flash wing provide a little more flash.  I'm always wary of having too much flash on my flies, particularly when fishing for wild trout, but this seems to have just enough to add a little more life to the pattern without sending the fish running for cover.
Rob's Flash Wing Pheasant Tail
Hook: TMC 2457 or equivalent, #18 – #12
Thread: 8/0 Brown
Weight: Black tungsten bead sized to match hook
Tail: Pheasant tail fibers
Abdomen: Pheasant tail fibers
Rib: Fine copper wire
Wing: 4-6 strands of pearlescent Krystal Flash
Thorax: Peacock Ice Dub
Legs: Black micro rubber legs