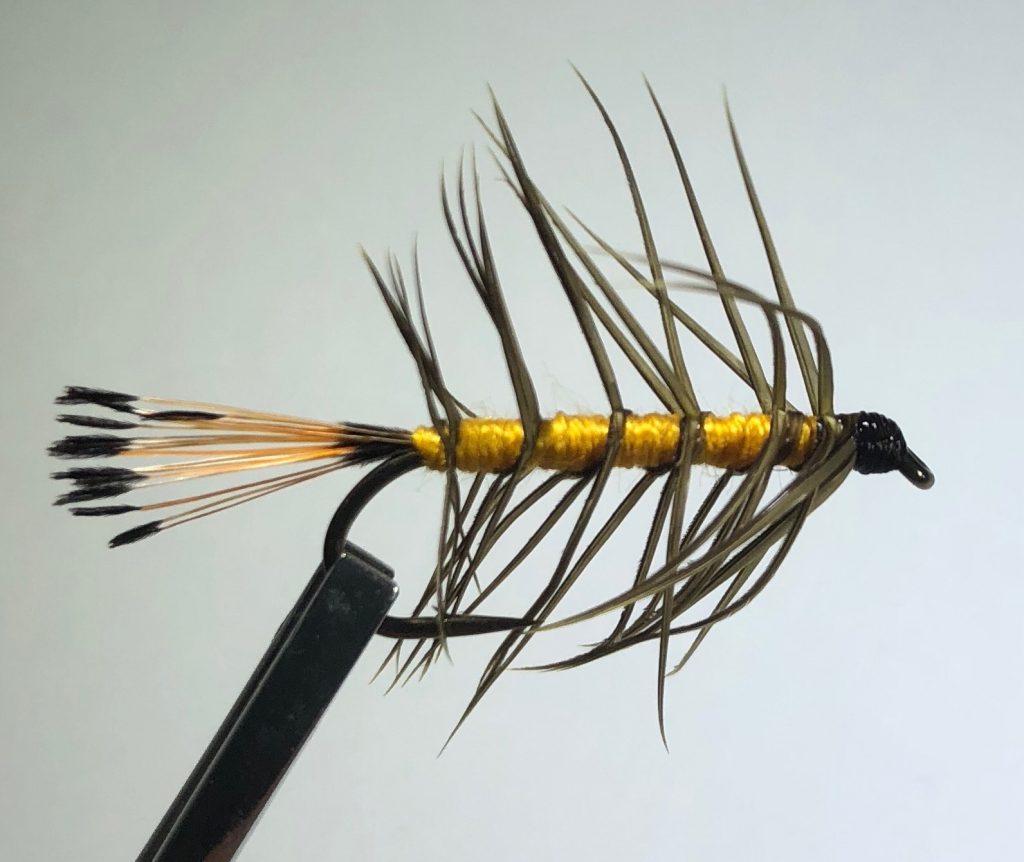 No fly holds near the lore among East Tennessee fly anglers as the Yallarhammer. It has long been known that the native brook trout that reside in Southern Appalachian mountain streams have a weakness for brightly colored flies, particularly if that bright color happens to be yellow. But before endless varieties of fly tying materials were so easily available from local fly shops, mail order catalogs, and the Internet, early fly tyers had to use feathers from local birds that they could shoot themselves.
A woodpecker known as a yellow hammer because of its bright yellow feathers and hammering beak was quite abundant in the area and provided a perfect source for fly tying materials. Over the years, numerous variations of the Yallarhammer (taken from the local pronunciation) trout fly emerged but the photo above is thought to closely (and legally) resemble the original. It was fished as a 'wet' fly, most often drifted and swung through pockets, riffles, and plunges.
The Yallarhammer also has strong ties to the state of Alabama. Their state bird, the Yallarhammer is most often associated with a confederate regiment based in Alabama that wore Yallarhammer feathers in their hats. Tennessee Volunteer fans may even be familiar with a Crimson Tide cheer that uses the term: "Rammer, Jammer, Yallarhammer…"
As a trout fly, the Yallarhammer was so popular that locals nearly shot the poor bird to extinction. It is currently a protected bird and the possession of its feathers will likely land you a citation before landing you a trout! But the Yallarhammer fly still lives on as modern fly tyers now substitute dyed dove and quail feathers for the original flicker feathers.
Pattern:
Hook: #10 TMC 5262 (or equivalent)
Thread: Brown 6/0
Tail: Golden Pheasant
Body: Yellow Floss
Feather: Primary dove wing feather, dyed yellow