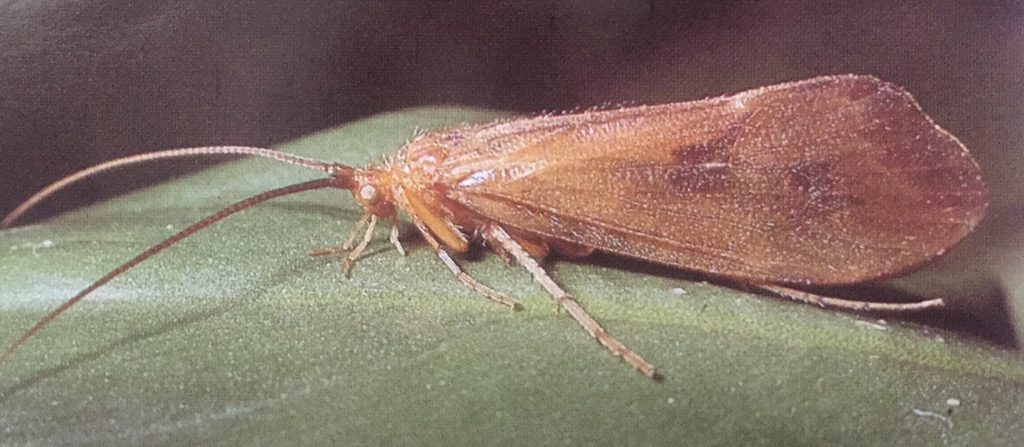 The Ginger Caddis of the Smokies is known in other circles as the Great Brown Autumn Sedge. Many lump it together with a few other similar species and refer to them all just as October Caddis. No matter what we decide to call it, fish just call it food! Caddis of numerous varieties are available most of the year in the Smokies but really seem to come into their own in fall. And of the many caddis species hatching in the fall, the Ginger Caddis is the undisputed king.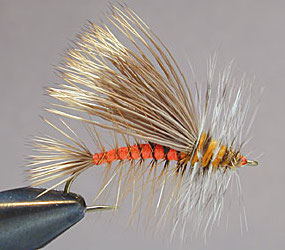 Ginger Caddis are big, big bugs – in the hook size #10-8 range to be exact. They are in the stream all year, most of the time in a larval encasement of lengthwise sticks. They feed mostly on decaying leaves throughout the winter and spring, and in early summer, when that food source has diminished, they seal off their cases and remain inactive until late summer. They begin pupation in late summer, with emergence, mating, and egg laying occurring in early fall. Eggs will hatch in late fall when most of the leaves have fallen, and the larvae will again begin feeding on this foliage. Their entire life cycle is completely synchronized with this food source and they are one of the most important converters of leaf material in the woodland streams of the Eastern United States.
What does that have to do with you? Well, it gives you a good idea of what to tie on the end of your tippet. You will probably only see a handful of these on the stream as the adults tend to fly mostly at night, but there is plenty of spillover near dusk and dawn. And trout don't seem to care that their not supposed to be seeing them in the middle of the day because they regularly take imitations with plenty of vigor!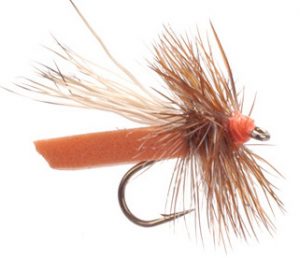 While there are a number of more exact imitations out there, I have found few flies that work better than an orange Stimulator or an orange Neversink Caddis in sizes #12-8. Even when they're not hitting the dries, these are both highly buoyant dry flies that do a great job of suspending a dropper. For dropper nymphs, the usual suspects like Pheasant Tails, Princes, and Green Weenies are always good choices. Or you may try a #12 orange soft hackle pattern to imitate the Ginger Caddis pupa.
Actively fishing an orange soft hackle by itself or in tandem with another nymph can be very productive, especially in the early morning. Refer to the Active Nymphing article in the Journal section of my web site for tips. Ginger Caddis begin showing up (hatching) in the Smokies in mid to late September and typically hang around until late October.
Learn more about Smoky Mountain hatches and flies in my hatch guide.