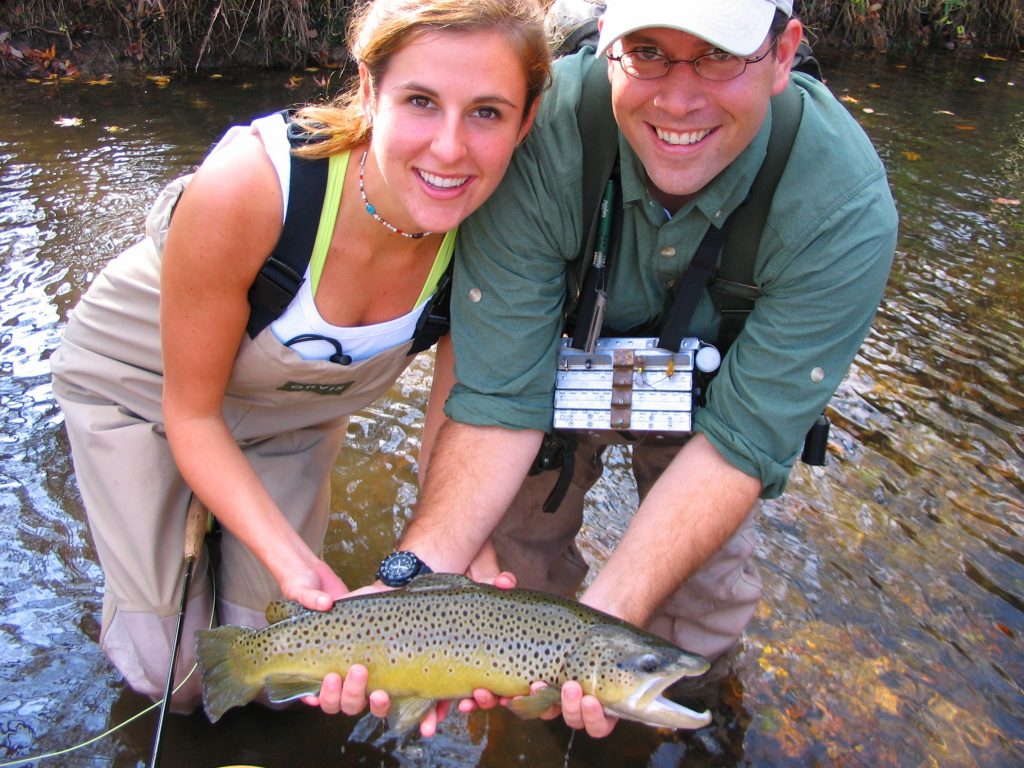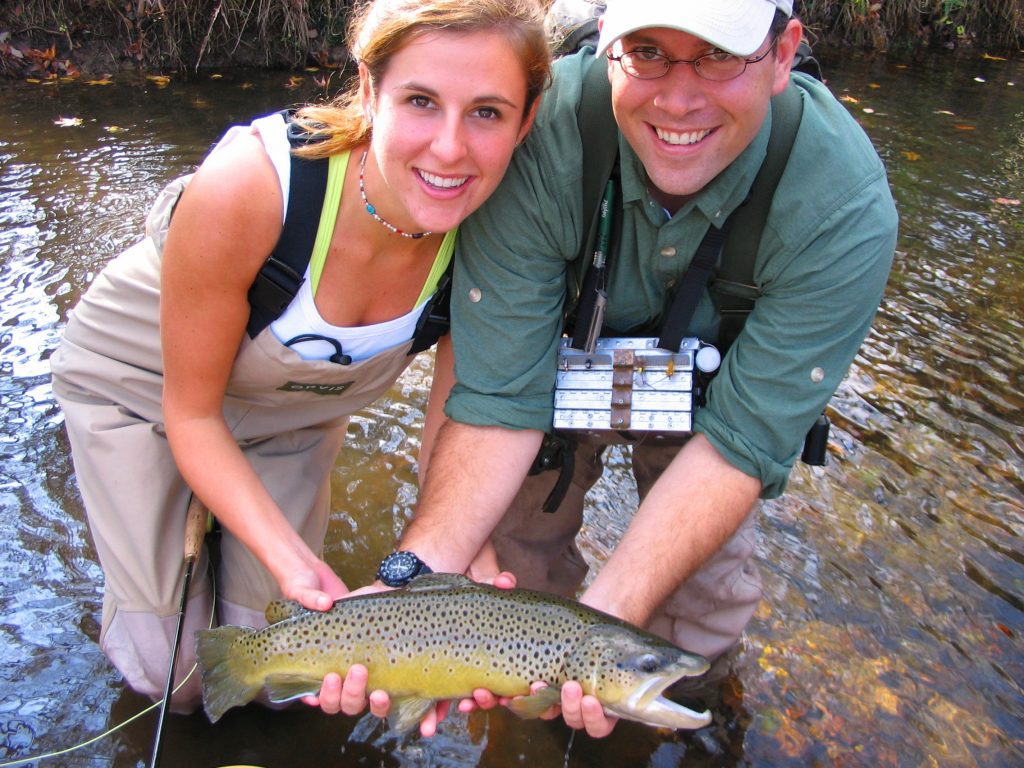 It's the time of year when certain folks seem to be whispering more at the fly shop. They're isolated in corners and peeking over their shoulders before saying too much. They're talking about brown trout. Big ones. Somebody mentioned seeing a decent one around Metcalf Bottoms – about 18-inches. A younger guy innocently asked, "Since when did we start referring to 18-inch browns as 'decent'?" The older guy replied with a grin, "October."
The Smoky Mountains is largely thought of as a fly fishing destination where the appeal is to catch wild trout in a beautiful place. But as a whole, you don't expect to catch particularly big trout. After all, rainbows rarely exceed 15-inches and brook trout rarely get any bigger than 10-inches in the Smokies. They're both almost exclusively bug eaters, and after 3-5 years, they simply can't support their weight with the bugs available, and they die. But when brown trout reach about 8 or 9-inches, they begin eating minnows, and crayfish, and mice, and birds, and small rainbows. They live 10-15 years and reach lengths of 30-inches in the Smokies!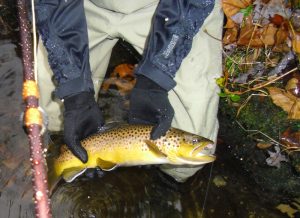 Fish that size don't get caught often. Brown trout only live in a handful of rivers in the Smokies to begin with. They're extremely cagey and for much of the year, they do most of their feeding at night – it's illegal to fish the park at night. So, outside of the occasional big brown caught at dusk, or dawn, or after a good rain, we don't get a lot of good shots at these guys. Until late fall.
Brown trout tend to make their spawning runs after the fall foliage has turned colors but before the last leaves have fallen. In the Smokies, that's usually late October or early November. They typically move to shallower, more visible areas of the stream and are spotted by far more fishermen then. When they're actually on the nest (or redd), we leave them alone. Not only is it just bad ethics, but they have other things on their mind than food at that time. But in the weeks leading up to the spawn and in the weeks to follow, their appetites are enormous!
In the weeks leading up to the spawn, they're on the move searching for suitable nesting areas, often where they were originally hatched. This is when many fishermen are hoping to get their shot at a trophy. A number of folks have booked me during this time, thinking a seasoned fly fishing guide will be their ticket to success. While I can certainly help locate the fish, there is a whole lot that has to go right to catch him. It's not just having the right fly at some secret honey hole!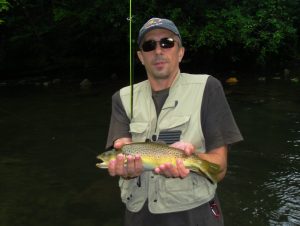 Most people aren't willing to put in the time it takes to catch one of these fish. Unless you're just going to depend on luck, you have to trade fishing time for looking time. You may not spot one at the first place, or second or third… And once you do spot one, you're not done looking. You have to watch him for a while to figure out his pattern: how he's feeding, where he's feeding, when he's feeding, IF he's feeding. You then may have to spend a pain-staking amount of time sneaking into a position where you can cast to him without spooking him.
Assuming everything has gone your way up to this point, you may only have one shot at him and a bad cast will kill the deal. And if he does eat and you do hook him, you're problems have just begun. Now you have to fight a 25-inch trout in the fast, rocky waters of the Smokies! But it's all worth it when it does come together and you become one of the lucky few. It's the stuff legends are made of.