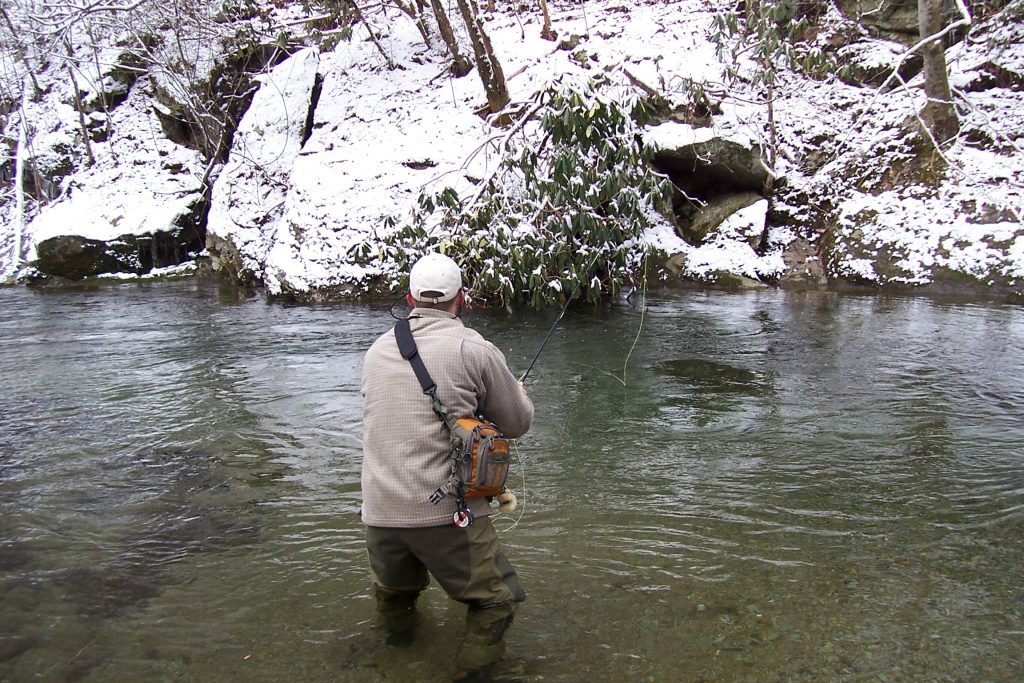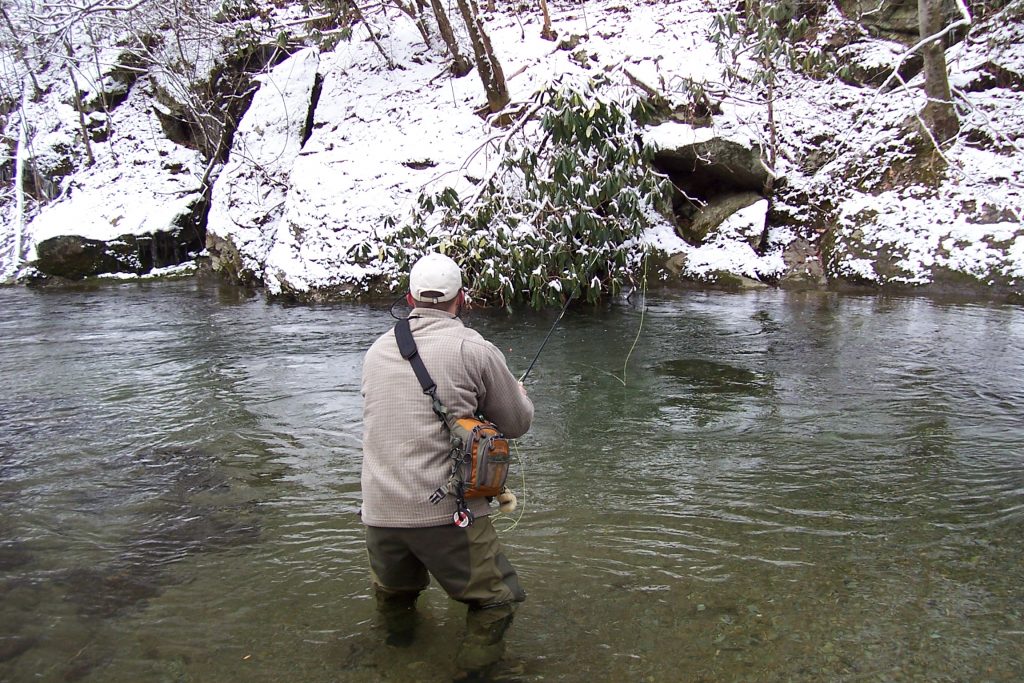 We've talked a lot about water temperature in many of these articles and for good reason. Things like approach, presentation, and fly selection can determine whether or not a fish will take your offering, but water temperature can determine whether or not a fish will take any offering! You can read in more detail about water temperature in A Matter of Degrees, but to keep it simple here, wild trout in the Smokies just don't do a lot of feeding when the water temperature is in the 30's and low 40's.
Tailwaters are different because the water comes from the deep, insulated layer of a lake, and the water temperature remains relatively constant, regardless of air temperature. Stocked trout in a freestone stream are different because, well, they just don't know any better. They were raised in hatcheries and were fed the same amount of food every day, regardless of temperature. But wild trout in freestone streams have never had that luxury, and in order to survive, their metabolism changes and they become nearly dormant. This doesn't mean that they won't feed at all but if you're going to fish the Smokies in the winter, come prepared with a great deal of patience.
I spend more time looking this time of year than I do actually fishing. Blind fishing a run in the spring can be very productive because all or most of the fish should be feeding and they'll often move up and down and side to side for food. In the winter they typically won't move much for food and you need to put the fly right on their nose. To do this most effectively, you really need to see the fish. Take your time and watch the water, paying particular attention to the slower currents on the edges and lower parts of a run. Ideally, you want to locate fish that are up in the water column rather than hugging the bottom. Fish that are up a little in the column are more likely to be feeding.
If you can't actually see the fish, look for flashes on the bottom. Any fish that is feeding will likely be picking nymphs off the bottom. When a trout eats a nymph off the bottom, they usually "tilt" their bodies sideways and you'll see the flash of their lighter colored bellies. You may have to scope out several pools or runs before you see fish or fish activity. Experience will teach you the kind of water to focus on, but deeper, slower runs will usually produce better than fast riffles and pocket water this time of year. And try to pick the warmest part of the day, probably late morning to late afternoon.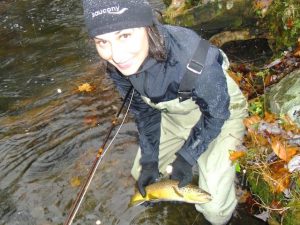 Once you think you've located feeding fish, it's time to think about fly selection. On warmer winter days, you may actually see some insects hatching. If you do, they're likely to be small and dark: Blue Wing Olive mayflies, small black stoneflies or caddis, dark olive or black midges… Rarely anything bigger than a #18. On rare occasions, you may see fish feeding on the surface during one of these hatches. Small Parachute Adams or Griffith's Gnats are a pretty good bet in those instances. Mostly though, they're going to feed more on the nymphs, so black Zebra Midges, small Pheasant Tails, and small black or olive Hare's Ears will be pretty good bets.
If I don't see any kind of hatch, I may still try one of the above mentioned nymphs, but more likely I'm going with something big, like a stonefly nymph. It may be more psychological, but I feel like I'll more likely get that lethargic fish to eat if I show him a bigger mouthful. Girdle Bugs, black Wooly Buggers, Yuk Bugs, and Bitch Creek Nymphs in sizes #10 – # 4 are personal favorites.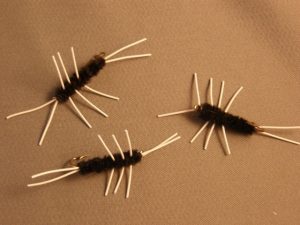 Regardless of your nymph selection, you're going to want it to drift as slowly and as near the bottom as possible. I like to use heavy flies and I like to use split shot. Take your time and adjust your weight regularly as you move to areas with different depths and current speeds. If you're not hanging up on the bottom from time to time, you're not deep enough. If you're hanging the bottom every time, you're too deep. Take the time to get it right. That fly needs to be right in their nose!
Adjusting your strike indicator (if you're using one) can help too, but usually the answer is more weight. Most fishermen just don't have their nymphs deep enough in the winter. A great way to learn about the effects of different current speeds vs. the amount of weight on your line is to spend some time fishing a fly you can see under water.  For instance, tie on a bright pink egg and watch how deep it sinks, how fast it sinks, and how it drifts with no weight, then 1 spit shot, then 2 split shot, etc. Try it with a strike indicator and without to learn how the indicator can impact the drift, too. This is just a great way in general to better understand nymphing, and sometimes you'll even catch a fish on that trashy pink egg!
Again, don't expect near the number of strikes that you might in spring. But if you're just itching to get out of the house and are willing to be patient, you might just be surprised at what you find.