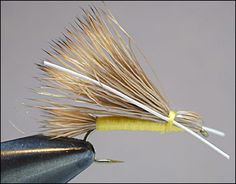 A good fly pattern is a good fly pattern. And while many good fly patterns, for one reason or another, may fall from popularity, it's not because they stop catching fish – they just stop catching fishermen. The Madame X certainly fits that description as it had tremendous popularity twenty years ago but is rarely mentioned today.
I became reacquainted with this fly about a month ago on a rare day off, fishing upper Little River with a couple of old friends. I was fishing a nice stretch of pocket water that had a few pools mixed in and was having moderate success when I noticed a large (about a size #8) golden stonefly in the air. These primarily hatch at night but there are always a few holdovers and they're such a big meal, I think trout are often still looking for them the next morning. So, sometimes their imitations can still work well, even when they're not hatching.
When I began searching my box, I came across a few Madame X's that had probably been in my box, unfished, for about 15 years. They fit the size and color profile I was looking for and sometimes I just enjoy going "retro" and fishing forgotten flies from days gone by. I figured at the very least, a big stonefly imitation would be a great, buoyant dry fly to fish with a nymph dropper. So, I dropped a little Pheasant Tail variation about 15" off the back, expecting it to account for any fish caught.
On the first cast into the first pocket, a fish exploded on the #8 Madame X! It surprised me and I missed the strike. On the second cast, the fish hit it again and I was ready that time – a solid 10" rainbow. This continued in nearly every pocket of water I fished. I caught dozens of chunky rainbows and probably 80% of them came on the big Madame X.
Doug Swisher originated this pattern in the 1980's as sort of a multi-purpose attractor pattern to be fished on his local waters in Montana. Mostly it was believed to represent a large stonefly adult or hopper. Over the years, it was frequently modified in size and/or color to represent a number of large bugs but somehow seemed to fall off the radar after the mid to late 90's. Many fly tiers began using foam for large flies around that time and I suspect the Madame X just fell out of style.
Well I'm here to tell you that there are plenty of trout that still think it's cool and I have been fishing it a little more regularly lately. I don't know if the trout take it as a stonefly or a hopper, and I honestly don't care. They take it! I fish it mainly with a yellow body but I'm sure other colors would work. And I fish it mainly in sizes #12 through #8.
Learn more about Smoky Mountain hatches and flies in my hatch guide.