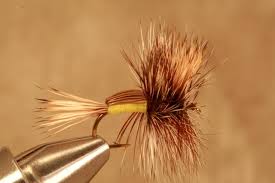 In April, dry fly fishing really starts to turn on in the Smokies. Not only are there a significant number of hatches, but water temperatures are getting ideal and fish are just looking up, even when no hatches are present. Presenting a dry fly that rides high on the water, not only tends to produce more strikes, it is much easier for you to see. Here are a few tips to keep your fly floating high in the fast moving currents of the Smoky Mountains.
First off, if you don't tie your own flies, be sure buy high quality dry flies. It can be tempting to find Internet companies or box stores that offer really cheap prices on flies, but they are cheap for a reason. These dry flies often have less hackle and/or use a very low-grade hackle, and they are simply not going to float as well. Bushy, heavily hackled flies will float the best, as will flies that utilize foam and/or deer hair. These are all great for most of the riffles and pocket water you encounter in the Smokies. However, if you're fishing to slow water risers in a slick pool, you may want to use a more slender, low profile fly like a parachute or comparadun pattern.
Treat your flies before you fish them. There are a number of great products on the market that accomplish this and are generically referred to as fly floatant. The most common are silicone based and have a gel consistency. Just squeeze a drop on your finger and rub it into your fly. Orvis, Aquel, Loon and Gink are probably the most common brands. They're all probably about the same but everyone seems to have their favorite. I use Orvis Hy-Flote.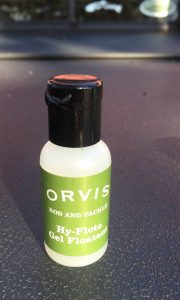 Once you've selected your high quality dry fly and gooped it up with fly floatant, the worst thing you can do to it is catch a fish! They take it under water and slime it up to the point where it doesn't want to float as well, especially after you catch 2 or 3 fish. When this happens, a mistake a lot of anglers make is to re-apply the same gel floatant they used to pre-treat the fly. However, you're often just trapping moisture in to the fly at this point. You need to remove as much of the moisture from the fly as possible.
On bigger rivers such as tailwaters, your false cast can keep a lot of moisture out of the fly, even after several fish. But in places like the Smokies, frequent false casting is often not an option due to the tighter quarters, and is often not desired because of the increased risk of spooking fish. There are a number of methods I use to dry a saturated fly in these environments.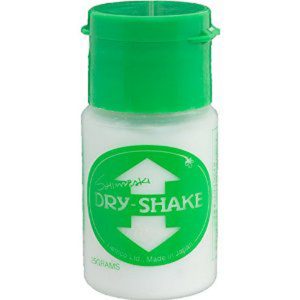 One is to press the fly against an absorbent material. Amadou is a material sold at many fly shops that works great for this. You can carry a patch on your vest or pack and just squeeze the fly in it. Chamois cloth is another good option. If you're in a pinch and don't have either, just press the fly against your shirt. After employing this method, blow on your fly. Finally, consider carrying a second, powder based floatation product. These are desiccants, similar to what's found in the small, "do not eat" pouches packaged with some clothing and electronics. Again, there are numerous brands. Frog's Fanny is a favorite of many anglers. My favorite is Shimazaki Dry-Shake. It has a large-mouthed bottle that allows you to drop the fly in while still attached to the tippet. Close the lid, shake vigorously and remove. It will be floating like new.
The final tip for keeping that fly floating high is technique. What causes flies to get waterlogged more than anything else, especially with novice anglers, is drag. When your fly doesn't drift naturally with the current, and instead pulls unnaturally against the current, not only will you not catch many fish, your fly is going to become more waterlogged and require far more maintenance to keep it floating.
Think about what you're doing. Instead of dragging the fly through the run 2 or 3 times before making a good drift, read the water. Identify the varied currents that will pull your line at a different speed than the fly and try to position yourself where you can eliminate them. If you can't eliminate them through position, think about how, when, and which direction you'll need to mend BEFORE you make the first cast. And pick your fly up when it reaches the end of the target area, rather than letting it drift (drag) into the fast shallow riffle at the bottom of the run.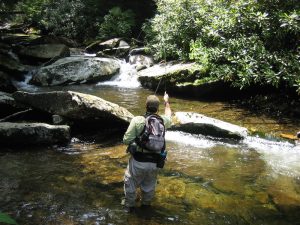 Experienced anglers often do most of this instinctively, so it looks like they're just casually moving around casting. The good ones always make it looks easy! If you're newer to fly fishing or even if you've done it awhile but only get out a few times a year, it won't be instinctive and you'll have to think about it. This is just good advice, period. If you execute a good cast and drift in the right place the first time, you'll not only keep your fly floating better, you'll catch more fish!
Finally, on a similar note, carry your fly in your hand when you move from spot to spot. I see a lot of people who will let their fly drag behind them in the water as they wade up to the next pocket or run. If you do this, the best-case scenario is that you're going to waterlog your dry fly. More often than not, you're also going to hang your fly up on every rock and stick in the river!